GET SOLD WITH ALYSSA COHEN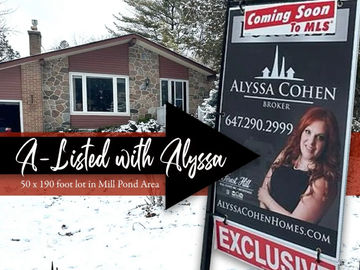 As a professional broker for Forest Hill Real Estate Inc., my priority is to establish a strong relationship with my clients by listening and understanding their needs, and then providing the proper guidance and support towards buying or selling their home.
You can benefit from taking advantage of the knowledge and expertise of my vast network of industry professionals, who specialize in the areas of Real Estate Law, Financing, Home Inspections, Staging and more.
When selling your home, giving potential buyers a great first impression is essential. Home Staging is all about proper presentation and bringing out the best vantage point of your home.
I offer a FREE consultation with an experienced Home Stager who can assist you in achieving that polished show-home look. Further, my clients receive a professional photography and multimedia package to properly showcase their home. This package includes attractively designed "Feature Sheets", appealing "Virtual Tours", and a customized "Internet" presence that includes "YouTube" videos and "Mobile" accessibility for those busy buyers on the go.
Through open-communications, honesty and dedication towards my clients, I strive to ensure that you have both an effective and positive real estate experience.
GREAT NEIGHBOURHOODS - GREAT HOMES
EXCLUSIVE SERVICES
Benefit from the full potential of our online services, free of charge, and with no obligation.
Full MLS Search
Register and gain access to 60% more listings and instant updates when you search MLS Listings.
Free Home Evaluation
Find out how much your home is worth, and receive a complimentary Home Evaluation Report.
Latest Listings Alert
Get notified as soon as new properties are listed in your desired area, before they are available to the public.
RECENTLY LISTED PROPERTIES
REAL ESTATE USEFUL TOOLS AND INFORMATION